Head (Ogieboro) of Okere Community in Warri South Local Government Area of Delta State, Chief Edjeba Felix Esisi, says the age-long annual Awankere Festival, popularly known as Okere Juju Festival, celebrated by indigenes of Okere, is not fetish, rather people of the community, "pray to God like others", during the celebration.
Chief Esisi made the declaration Saturday July 20 at Okere, Warri, in an exclusive interview with Our Senior Correspondent, during the grand finale of the 522 Edition of Awankere Festival.
While assuring that Okere indigenes will make sure the festival is sustained for centuries to come, the Ogieboro noted that during the Nigerian Civil War and ethnic unrest in Warri, Awankere Festival was celebrated without hitches, saying, "it is the only festival in Warri Cosmopolitan City".
According to the Warri Community Head, chants by the masquerades are prayers, adding that the youths are taking over activities of the festival with good understanding about the process, as part of successive plans put in place, to ensure sustenance of the cultural fiesta, otherwise known as Okiroro Festival.
He commended the Olu of Warri, Ogiame Ikenwoli, the Ologbotsere (Traditional Prime Minister) of Warri, Chief Ayirimi Emami, Telecoms giant, MTN, Eagle Aromatic Schnapps, other cooperate bodies and individuals for supporting Awankere Festival over the years.
Two notable elders of Okere Community, Chief Kofi Kartey and Pa. Churchill Oki, commended Okere sons and daughters as well as friends of the community for always coming to celebrate the festival. 
Fresh Angle International can report that Chief Ayirimi Emami, the Uwangue of Warri, Chief Gabriel Awala, the member representing Warri Federal Constituency in House of Representatives, Chief Thomas Ereyitomi, the members representing Warri South Constituencies 1 and 2 in Delta State House of Assembly, Hon. Augustine Uroye and Hon. Matthew Poko Opuoru, respectively as well as Hon. Griftson Omatsuli, were among prominent persons that graced the ceremony.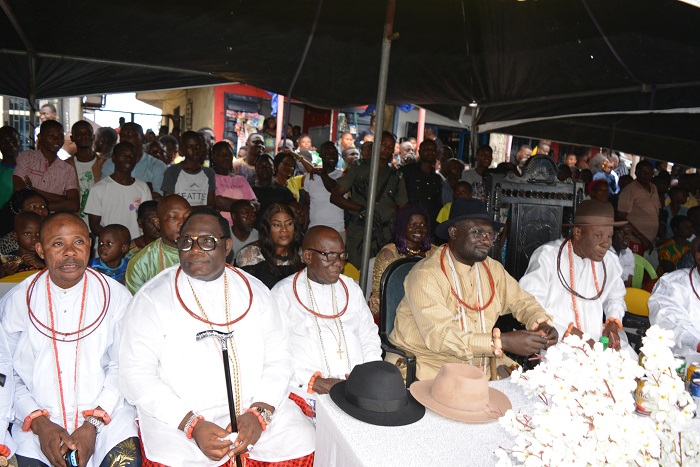 The Ogieboro of Okere, Chief E.F Esisi (Right) Chief Ayirimi Emami (2nd right) Chief Gabriel Awala (middle) Chief (Hon.) Thomas Ereyitomi (2nd left) & others during the grand finale

 

 

 

 

 


Copyright: Fresh Angle International (www.freshangleng.com)






×