The Olu of Warri, Ogiame Ikenwoli, has appealed to President Muhammadu Buhari, to institute machinery in motion for the dualization of the age-long Koko-Ogheye Road, saying efforts should be doubled to increase the pace of construction, "so that Mr. President can commission it for us before leaving office 2023".
The Warri Monarch, who made the call today, Thursday December 12, at Ode-Itsekiri in Warri South Local Government Area of Delta State, during the grand finale of his 4th Coronation Anniversary, recalled earlier advocacy visit to the President, where he canvassed the need for projects such as resuscitation of Warri Port, building of a new Warri Seaport, the Gas Revolution Industrial Park, GRIP, Ogidigben and the Warri -  Ode Itsekiri Trans-Highway, to be given priority attention by the Federal Government, in view of the projects' economic importance.
While commending the Minister of Transportation, Rt. Hon. Rotimi Amaechi, "for his hard-work and tenacity of purpose in bringing this project (Warri Deep Sea Port) to fruition", The Olu of Warri, who spoke through Chief Brown Mene, noted that his previous engagement with Delta State Governor, Dr. Ifeanyi Okowa, resulted in the purchase and installation of a 500KVA generator at Ode-Itsekiri (Big Warri).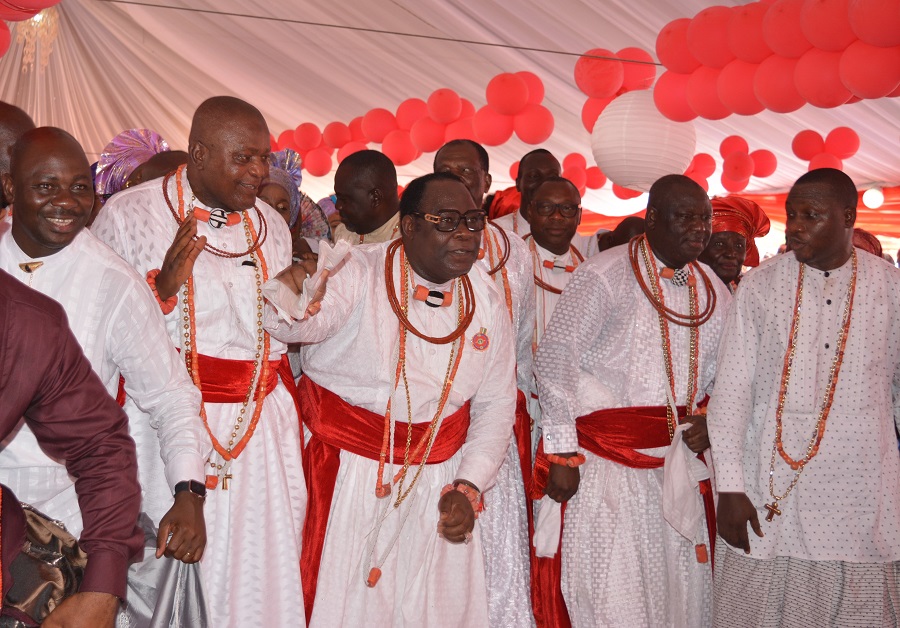 From left: Hon. Emomotimi Dennis Guwor, Chief Otimeyin Adams, Chief Thomas Ereyitomi, Chief Olley &  Evang. Tony Aderojor, paying homage to the Warri Monarch
The Monarch disclosed that the governor also assured that his administration, "will look at a more permanent solution to the supply of electricity to Ode-Itsekiri, including hook up to the National grid", even as he urged the Delta State Government to upgrade the generator at Ode-Itsekiri to at-least 1,000KVA and fast-track work at the Ubeji –Ifie Road in Warri South Local Government Area.
He blamed political actors of Itsekiri extraction for the reduced representation of Itsekiri Nation in Delta State House of Assembly and revealed the setting up of Itsekiri Strategic Work Group, ISWG, for the retooling of Itsekiri Nation's focus.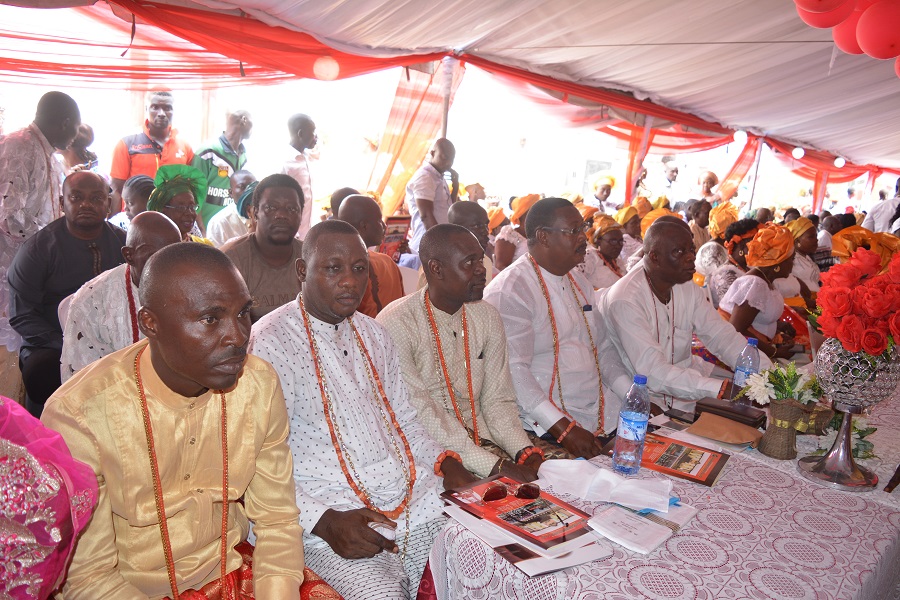 Hon. George Ekpemupolo (left) Mr. Tony Aderojor (2nd left) Barr. Austin Oboregbeyi (right) & others at the coronation anniversary
According to the Warri Traditional Ruler, ISWG, whose membership was drawn from the Olu – in – Council, Itsekiri Leaders of Thought, Alpha May Club, Itsekiris in Diaspora and other relevant Itsekiri focused groups, was, "already working on modalities for a broad based, all-encompassing Itsekiri summit, that will focus on critical issues affecting us (Itsekiris) in recent times and proffer solutions for the near and long term".
He added: "These issues would in my view, include political matters, economics, community development, population, the Itsekiri Language, empowerment of our youthful population and other strategies for sustainable development of our people".
Our Senior Correspondent reports that the event which featured paying of homage to the Olu of Warri by his subjects, was attended by Hon. Thomas Ereyitomi of the House of Representatives, Hon. Augustine Uroye and Hon. Emomotimi Guwor of Delta State House of Assembly, former Chairman of Warri South-West Local Government, Hon. George Ekpemupolo as well as Chief Tunde Smooth, among other prominent personalities.
 

Chief Otimeyin Adams (2nd left) Chief (Hon.) Thomas Ereyitomi (3rd right) Chief Ayirimi Emami (4th left) & other Chiefs paying homage to the Olu of Warri


Copyright: Fresh Angle International (www.freshangleng.com)






×